About Hritaal Dance Centre
HRITAAL – the "Taal" of the "Hriday" or the "Rhythm of the Heart" is another name of the bonding that exists within the heartbeat of a group of young performers. The members of HRITAAL, through their performances, embody the unique style of the legendary maestro Pandit Uday Shankar, the foremost exponent of the Indian Creative Ballet. We aim to spread this form of dance to every corner of the world and into the hearts of a global audience our well-wishers and the Almighty.- and last but not least, our well-wishers.
HRITAAL is the realization of the shared dream of a group of young dancers, united by their urge to spread the message of joy, happiness, freedom, peace and harmony among all, to the farthest corner of the world through their performances. In this venture, we could not have gone far without the warm encouragement of West Bengal Dance Group Federation, West Bengal State Music Academy: Department of Information and Cultural Affairs, Govt of West Bengal, Eastern Zonal Cultural Centre, our well-wishers and the Almighty.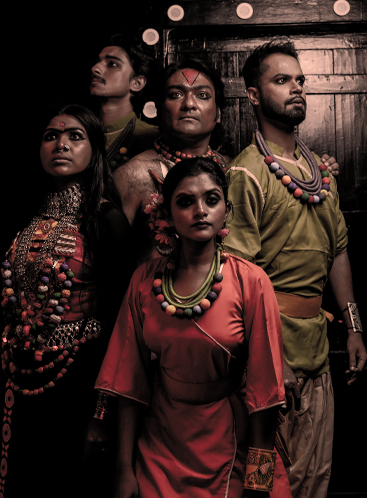 Our Institute
It is indeed reward enough for the teachers to see an occasional creation by the students, surprisingly beyond expectation in maturity and imagination. Our aim is not only to train these students in dancing, but also to make them aware and conscious about certain basic moral values, which would help them to become an honest, sincere and dedicated citizen of our country.
Along with the Shankar technique, different forms of Indian contemporary and folk dances are taught in this institution. This helps to enrich an individual artist to portray the art form on multiple platforms. They also learn different technical aspects of this performing art, like choreography, stage management, use of lights, use of props as well as costumes and accessory designing. The progress of the students are checked periodically and a gradation system is maintained for the proper evaluation of their capabilities. They are gradually introduced to the professional troupe, according to their performing abilities. We wish to convey our heartfelt thanks to all the guardians for their unstinted support and co-operation, and above all, the students and all the troupe members for their dedicated effort and sincere belief in the dream, that is HRITAAL.
Our Creations
Hritaal Dance Centre, has immense varieties as far as their creation goes. Ranging from Stray items influenced by forgotten folklores to social issues to stomach tickling comedies to adaptations of literary masterpieces – Hritaal has done it all.
This 20-year-old institution has already mesmerized dance lovers with its well-known musicals. They introduced their first Major Production "Chetona" in the year 2008. After its immense success and a long wait, Hritaal brought the glorifying tale of Rani Padmini's sacrifice, "The Burning Lotus" in the year 2013. Their latest production is the most successful production, the saga of Lord Krishna, titled "Bansuri". Within a very short period of time Bansuri has won many hearts and has been staged in approximately 30 shows during the time span of merely a year